Late Bar open until 2am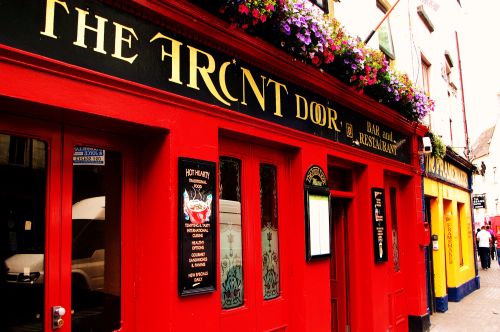 The Front door is a cavernous premise accessible both from High Street and Cross Street in the midlle of the Latin Quarter area.  This historic pub has been tastefully upgraded over the last few years and now incorporates five bars spread over two floors. Accommodating up to 500 people it is in the super pub league and is now open until 2am 7 days a week. They have two outdoor smoking areas on the upper level and they also have an outdoor seated area on the busy High Street.
The crowd here is well dressed and predominantly in their twenties especially at the weekends. The Front Door is also very popular for its food which is served from 12 noon until 9pm. The menu is diverse with lots of Traditional Irish Pub fare at reasonable prices. There are lots of different types of seating located in the many nooks and crannies. The food service is among the fastest in the City.
If anyone is wondering about the name, the "Sonny's" part is a reference to the fact that part of the premises was once home to a  drapery shop run by well known Galwegian Sonny Molloy who is a reknowned choral singer at the Augustinian church. He was also the subject of a documentary in 1997 which won 2nd prize at the Galway Film Fleadh.
Djs play 7 nights a week with the place pretty much becoming a nightclub by midnight with a number of dancefloor areas.
This comfortable pub is a great place for a few pints night or day although the late night scene here may not be everyone's choice.

Front Door / SonnysCross Street / High Street, Galway
+35391 563757
Website